July 17-21 found myself and fellow co-founder Tomás Spath walking the halls of Congress again for the first time post-pandemic. It felt really good to be back. But you may wonder, why do we do that?
We try to walk the halls every year for a number of reasons. First, and perhaps the most important, is to make members of Congress aware of the Institute and of the support we receive from you, our supporters. This is a never-ending educational effort thanks to the constant turnover in the House of Representatives and in their staff. While we have some old friends there who have known us for years, we are always introducing ourselves to newer members of Congress and staff for the first time. It's just the way things are. Also, we do not have the resources to make it around to every office every year. With 435 members and 5 delegates, we simply do not have the time and/or person-power to reach everyone every time. So there is always someone new to meet, someone who is hearing about us for the very first time.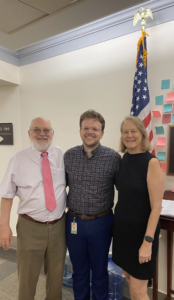 We are happy to report that we are taken much more seriously now than we were when we first began, and are heartily welcomed by just about everyone, regardless of political affiliation. Most members of Congress are as tired of incivility and are as eager for an end to the polarization as many of us are. They, too, are looking for ways to ease the hostilities that seem to define the current political environment in our country. They hear the news of the Institute and its programs with a sense of gratitude. And they also understand, as we do, that (at least currently) this is an uphill battle and one not easily accomplished.
That doesn't mean that working to reweave civility into our culture and our government processes isn't worth doing. Quite the opposite. It is absolutely essential. Contrary to what many think, however, there is hope. The vast majority of legislation passed is actually done on a bipartisan basis. It just doesn't make the news.
There are other bright spots to report as well. One joyful moment in particular this year was when we were able to spend a few minutes with Jakob Lucas. Jakob went on two Student Legislative Seminars to Washington, DC as a student from Texas City High School. Today he is a Congressional Staff member. Seeing him again was pure joy!
Says Jakob:
My trip as a high school student to Washington D.C., facilitated by the Institute for Civility, opened up a world of opportunities and dreams I didn't know existed. In no other way would I have spoken with staffers and Members of Congress as a teenager — and realized they were just people, like me and you.

Leaders from the Institute guided us through iconic landmarks in D.C, but more importantly, guided me and other students through meaningful and heartfelt conversations. We talked and learned from each other about our country's shared values and what it means — and could mean — to be an American. Without the Institute, I wouldn't be where I am today, working for Texans back home as a communications staffer for a new Member of Congress.

Jakob Lucas, Student Legislative Seminar Alumnus
So if you are wondering if being a part of the Institute makes a difference, wonder no more. Your voice is being heard on Capitol Hill. Your participation is having an influence. The way may be long, but it is worth the time, the effort, and the investment.
Thank you so much for your support! We could not do this work without you!
– Cassandra Dahnke, President & Co-founder, Institute for Civility
If you would like to support Student Legislative Seminars and other Institute programs, please consider making a donation today.