Never doubt that a small group of thoughtful, committed citizens can change the world; indeed it is the only thing that ever has. Margaret Mead
Our Co-Founders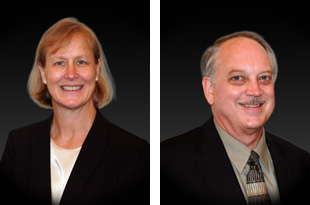 While leading legislative conferences to Washington, DC in the 1990's, Cassandra Dahnke and Tomas Spath became increasingly concerned with what they perceived to be a decline in civil discourse in politics and government, and with the impact of that decline on policy and community life. Finding no national organization devoted to addressing the issue of civility at the grassroots level at the time, they launched the Institute for Civility in Government in 1998.  The Institute interacts directly with elected officials, staff, and constituents, offering models that cut through partisan noise by emphasizing active listening, tolerance, and the importance of claiming one's own needs without degrading the needs of others.
Cassandra and Tomas have developed a strong track record of positive relationships with elected officials on all sides of the political aisle. They have developed a multi-tiered educational approach that encourages civil behavior from those officials, while working to provide citizens at large with the necessary skill-set to identify and practice civility, and expect it in return. Today the Institute facilitates dialogue through Congressional Student Forums that bring elected officials from opposite parties together on college campuses to model a collegial and respectful conversation about issues the students raise. Today the Institute teaches respect and civility skills both on-line and through  Civility Training Workshops.  Today the Institute brings groups of students and adults to Washington, DC for  Legislative Seminars, teaching them that their voice matters, and that direct engagement with their elected officials can make a difference.
Recognized as leading civility experts, Cassandra and Tomas have appeared in media outlets across the country, and are much in demand as speakers. They have addressed civic groups and corporate boards, students in public schools and college courses, faith communities, and members of the United States House of Representatives. They have appeared on PBS, CSPAN, and CBC radio, as well as in Roll Call and NPR Online. Their 2007 book, Reclaiming Civility in the Public Square, calls attention to the value of civil discourse, serves as a blueprint for action, and provides examples, in plain, straightforward language, of living, thriving civil discourse in American politics today.  The rules they teach and practice can bring a greater civility to our homes, communities, and our nation.

Our Executive Director
Eliah Thomas is a well-known organizational powerhouse, influencer, and experienced entrepreneurial leader with 20 years of lived experience, serving extensively for non-profit, social enterprise, for-profit Fortune 500 companies, as well as local, state, and federal government agencies. Infused into her role as ED for ICG, she also sits on the Worldwide Civility Council, Arab American Council and YapPolitics Advisory Board. She also volunteers as Chief Diversity Officer with Jog for Good Foundation, bringing all her passion together to work with corporations, schools, government departments and organizations to develop action plans to diversify and navigate past incivility & racial bias in the workplace & world.
Our Board of Directors
John Alford, Political Science Professor at Rice University in Houston, Texas, received degrees from the University of Houston and the University of Iowa. His early published work was mostly in the area of elections and voting behavior. His current research focuses on the biology of political behavior, including neuroscience and genetics.  This work is concerned with the how and why of our human tendency to conceive of politics (as well as the related realms of morality, religion, and even proper child-rearing) in divergent ways that can be broadly termed conservative or liberal.  John says "My lessons in the importance of political civility started early, as my mother was a liberal Canadian school teacher and my father was a conservative U.S. Army Colonel from Alabama."  John has served on the Institute's Board since 2014.
Karen Banda was first introduced to the Institute when as a student at Furr High School in Houston, Texas she participated in one of our Student Legislative Seminars to Washington, DC.  She credits this experience with sparking her interest in public policy. Karen was selected as a Gates Millennium Scholar, being one of only 1,000 students selected nationally, from a pool of 52,000 applicants. In 2018, Karen graduated Cum Laude from Smith College.  After graduating she went on to be a Program Coordinator for the Hurricane Consumer Assistance Project, a program that helped residents affected by Hurricane Harvey.  After that, Karen worked as a Paralegal for Clayman & Rosenberg, LLP, a boutique law firm in New York City.  Karen is now pursuing her Master in Public Policy.  Karen joined the Institute's Board in 2021.
Mary Josie Blanchard is a Senior Government Executive whose long career has dealt with environmental restoration and mined land reclamation both in the State of Texas and the Federal government.  She received degrees from Stephens College in Columbia, MO and The University of Texas in Austin, TX.  Mary Josie is a Trustee of the Cheetah Conservation Fund and served on several other boards including Stephens College Board of Trustees and Executive Women in Government.  An accomplished flute player, she also enjoys gardening and learning more about wildlife. Drawn to the Institute by her brother, Mary Josie began hosting students from Texas City in Washington DC.  She arranged for several successful graduates of Texas City High School to meet the students and discuss their paths from Texas City into their careers in the Washington DC area.  The students asked a lot of good questions and their enthusiasm for the Institute's program was infectious.  She has served on the Institute's Board since 2015.
Randy Dietel was born and raised in Fredericksburg, Texas.  He earned a degree in music and was a Band director for three years.  He has also served in the US Army National Guard.  Since 1982 he has been owner and CEO of Nunez Construction Co., Inc, a 4th generation family business.  He is also owner and CEO of Piling, Inc., founded in 1971.  Randy has served on many boards and commissions, including a two year term as a city commissioner of Texas City, Texas.  He has been married to Peggy for 51 years and they have two children.  Deeply involved in the local Rotary Club, Randy was instrumental in bringing the Institute's Student Legislative Seminars to his community through that organization.  Randy has served on the Institute's Board since 2012.
Dasha Rhodes was a student at Furr High School when she was first introduced to the Institute. She was among the first students who traveled with the Institute to Washington D.C. and shares that it was a great and challenging experience. Dasha is a native of Houston, TX and worked as a hospice social worker before relocating to Baltimore, MD to receive her PhD in Social Work at Morgan State University. She now teaches at the University of South Florida (Sarasota) as an Assistant Professor. Dasha enjoys spending time with family and friends whenever possible and enjoys reading in her spare time. She is happy to be involved with the Institute as it serves as a full-circle moment. She is "immensely proud of the growth and engagement the institute provides, particularly to students."  Dasha has served on the Institute's Board since 2019.
Serving the Institute for Civility in Government is a natural extension for Scott Roberts from decades of volunteering for other youth oriented organizations, including Amigos de Las Americas, a youth leadership and cross-cultural organization as well as many other Advisory boards.  Scott says "I always try to promote servant leadership, youth development and peace making which I believe the world needs more of."  Scott is  retired, having spent 35 years with Royal Dutch Shell in the US, Mexico, UK and the Netherlands.  His career included positions in research, operations and business. He was President of Shell Mexico from 1996-2000, Executive VP of Global Manufacturing for Shell Chemicals Ltd from 2001-2005 and was VP of Manufacturing for NW Europe from 2006-2008.  Scott has served on the Institute's Board since 2015.