"Emerging from an era of strategic divisiveness, this book is like a life preserver thrown to one who is drowning. From the school board to the president, this is the thinking person's user's guide to the American democracy." — Hill Kemp, Author
Overview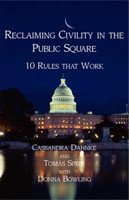 Our book, Reclaiming Civility in the Public Square – 10 Rules That Work , is a user-friendly guide to how civility in the governing process is possible. Each rule is illustrated with a true life story. These stories not only demonstrate how the rule works, but also give evidence that while "civility in government" may sound like an oxymoron to some, there are examples to be found showing civility to be alive and well in the political sphere.
This book lends itself to small group study. Written in plain language, each of the short chapters invites reflection and conversation about how that rule works in our own lives, and how it can work in our lives in community. For those who are interested, it would not be difficult to find scripture passages that support each of the rules. The lessons of this book are applicable to everything from our personal conversations in stores, schools and our homes to international diplomacy. There is encouragement here for each of us to be involved in the governing process in a positive way.
Table of Contents
Table of Contents
Preface (p. i)
Part 1: The Problem (p. 1)
Part 2: The Solution (p. 8)

Rule #1: Know Yourself (p. 9)
Rule #2: Listen with Your Strength (p. 16)
Rule #3: Respect: Differences are Enriching (p. 20)
Rule #4: Listen with Your Mind (p. 26)
Rule #5: Help Comes from the Most Unexpected Places (p. 31)
Rule #6: Relationship is Everything (p. 39)
Rule #7: Listen with Your Heart (p. 46)
Rule #8: Trust, Trust, Trust (p. 53)
Rule #9: One is Powerful (p. 58)
Rule #10: Numbers Count (p. 63)

Part 3: The Challenge (p. 68)

Go For It! (p. 69)
Success Stories of Individuals Involved with the Institute Who Have Accepted the Challenge: Proof Civility Works! (p. 73)

Conclusion: Hope for the future. How do you become a participant rather than a bystander? (p. 90)
Appendices

About the Institute (p. 94)
Books on Civility and Politics Reviewed by the Institute (p. 96)
How to Contact Your Elected Representatives and Government Agencies (p. 99)
Civility: Past & Present (p. 101)
Participation in Common Civic Life (p. 107)
Study Guide with Questions for Discussion Using Success Stories from Others Outside the Institute Who Have Modeled Civility (p. 112)

End Notes (p. 123)
About the Authors (p. 131)
About The Authors
Cassandra Dahnke and Tomas Spath are co-founders of the Institute for Civility in Government, a grassroots non-profit organization that works to bring more civility to the governing process in our communities and our nation. With more than 15 years of experience in leading legislative conferences, Cassandra and Tomas know first-hand what it takes for citizens to be effectively engaged in the political process on Capitol Hill and beyond. Along with Donna Bowling, they have co-authored a book, Reclaiming Civility in the Public Square – 10 Rules That Work. They have addressed community groups, schools, churches and members of Congress, and have been interviewed on radio and television, including PBS, C-SPAN, NPR and CBC. Both are ordained pastors in the Presbyterian Church (U.S.A.) and are actively serving a congregation. Both Cassandra and Tomas have mediation training.
Cassandra has a BA in Sociology from Texas Tech University and a M.Div. from Austin Presbyterian Theological Seminary.
Tomas Spath brings a cross-cultural perspective to his work as he was born and raised in Argentina. He holds a BA in Spanish from Gettysburg College and a M.Div. from McCormick Theological Seminary.
Donna Curtis Bowling is a writer, teacher, speaker and occasional preacher. She obtained her B.A. in Psychology from the University of Oklahoma, her J.D. from the University of Oklahoma College of Law, and a Master of Arts in Theological Studies Degree concentrating in Ethics from Austin Presbyterian Theological Seminary. Her poetry has appeared in Windhover, the 2013 and 2014 Texas Poetry Calendar, Peace Words, Blue Hole and the Baylor House of Poetry.
Sample Chapter
Excerpts
"It is not difficult today to find people who share a concern about the lack of civility in our society in general, and our public discourse in particular. What is difficult is to find people who believe they can do anything about the degree of civility in our political processes beyond remaining civil themselves. "
"The uncomfortable truth is that if we are to solve the difficult problems we face as a national community, we must act affirmatively and with courage and clarity to reclaim civility in the public square. Civility is quite simply the glue that holds us together and allows us as citizens of a representative democracy to dialogue with each other."
Sample Chapter
Reviews
"In this carefully constructed yet easy to absorb book, the authors outline 10 simple, practical steps to help bring us into relationship with each other once again. I urge you to buy and read this book – and watch your life change." Sandy Wilder, Host, "Austin Faith Dialogue" TV show
"Practical advice to make our nation's politics less harsh and more effective." David Beckmann, President, Bread for the World
"Reclaiming Civility in the Public Square explores a topic whose importance cannot be underestimated." Louis Dobin, Director, URJ Greene Family Camp
"…a useful blueprint for personal action." Robert E. Biles, PH.D., Professor and Chair of Political Science, Sam Houston State University
"Emerging from an era of strategic divisiveness, this book is like a life preserver thrown to one who is drowning. From the school board to the president, this is the thinking person's user's guide to the American democracy. Don't leave home without it!" Hill Kemp, Author of Capitol Offense
Purchase