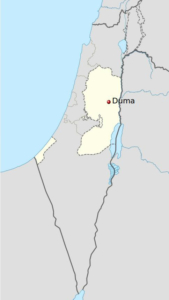 This past summer – and especially the last few weeks – have seen several pieces of news come out of Israel that are disturbing, and that deserve further consideration as we think about civility. And in a recent blog post for The Times of Israel titled Condemnation is Not Enough. We Need Change, author Sarah Tuttle-Singer does just that.
On July 31st, in the West Bank town of Duma, a Palestinian toddler was killed and three members of his family were injured in a deadly arson attack perpetrated by Israeli settlers in the disputed territory. According to The New York Times, the child killed was eighteen-month-old Ali Dawabsheh and his parents are Saad, 32 and Riham, 27 (who was was still on fire when neighbors came on the scene). Hebrew graffiti was sprayed nearby reading Revenge, and accompanied by a Star of David.
Meanwhile, not two months earlier, The Times of Israel ran a story about a poll of Israeli and Palestinian teenagers conducted by the Rafi Smith Institute that found that:
Forty-five percent of Jewish teens said they were not prepared to sit in the same classroom with Arab classmates, while 39% of Arab students said the same of their Jewish peers.
The poll also found that only 28% of Jewish respondents said they condemned so-called price tag attacks associated with religious, far-right Jewish groups. Price tag attacks, writes The Times of Israel, are incidents of violence or vandalism like the arson in Duma that target Palestinians or Israeli security forces as payback for actions against the settlement enterprise.
This all points toward what seems to be an increased tolerance for violence as a problem-solving tool among Israeli youth. And it points toward a cause that seems particularly relevant to the question of civility: increased polarization brought about by a breakdown in communication.
Responses to the Duma attack have been sincere condemnation across the board. As The Jerusalem Post reports, Prime Minister Benjamin Netanyahu said that he was shocked over this reprehensible and horrific act, and called it an act of terrorism in every respect.
But as Sarah Tuttle-Singer tells us so passionately, it is no longer enough to condemn these attacks. It is not even enough to seek the perpetrators and bring them to justice.
In her Times of Israel blog post, Tuttle-Singer looks at the incident in Duma, and looks at the type of polarization indicated by the Rafi Smith Institute poll, and calls for a kind of radical civility that starts from below. She says – rightly – that hate is a learned behavior. And she says that the best solution to hate is for us – and especially our children – never to learn it at all.
The good news, she says, is that Israeli schools don't teach hate. But leaving it at that is inadequate: Our kids grow up separated from Arabs, and all they learn is what they'll see on TV when there's a war. It's disheartening, and dehumanizing, and it needs to be remedied.
Overcoming hate, Tuttle-Singer writes, means building bridges of communication and finding sameness amid difference. It means Israeli children having:
a real opportunity to meet Arab kids — kids who may pray differently, but who probably enjoy the same snacks. Kids whose first words were in a different language, but probably love swimming in the same big blue sea. Kids who may be shy at first — as my kids will be, too — but who will find common ground because kids always do when given that chance.
Specifically, what Tuttle-Singer calls for is action, not reaction – mandatory programs that require Israelis and Palestinians to get to know one another in a safe environment, where trust begins.
But what she is calling for in a more abstract sense is a kind of civility that privileges dialog across difference, and the ability to acknowledge cultural diversity while embracing, too, the idea that beneath it all, there is more about us that is the same than is alien.
Children, Tuttle-Singer implies, understand the polarizing consequences of longterm political disputes even before they understand the causes. And by inoculating children with a sense that the other side is alive, and human, and just trying to make their way in the world, we prepare them to tackle those disputes without embracing the hatred that has become their baggage and their legacy.
This simple idea of finding common humanity through dialog is good not just for children but for adults, too. And no less than in Israel, it can teach us here in the United States a thing or two about how to do civility right.